The Ghost Mushroom experience will be back in 2018!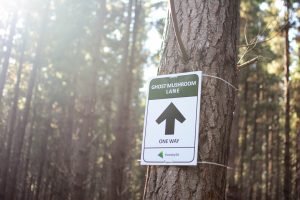 While Ghost Mushroom season 2017 has sadly come to an end, we have had such positive feedback from our more than 18,500 forest visitors that we are already planning to offer this unique experience again next year.
The luminous mushroom, Omphalotus nidiformis, can be found growing in South East pine forest near Mount Gambier after late autumn rains in May. It can grow up to 20cm wide and continues well into winter.
It emits a soft green glow after dark as a result of a chemical reaction between fungal enzymes and oxygen. This glow can be bright enough to read words on a page!